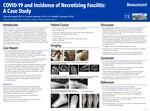 Description
COVID-19 manifests as a flu-like respiratory infection affecting multiple organ systems. Symptoms range from mild viral illness to severe acute respiratory infection. There is no definitive relationship between COVID-19 and cellulitis, inflammatory myositis, vasculitis, or necrotizing fasciitis. It is interesting to note that angiotensin-converting enzyme 2 (Receptor for SARS-CoV-2) is present on endothelial cells in multiple organs, including dermal blood vessels and arterial smooth muscle cells. There are several theories that have formed to explain the relationship between COVID-19 and a necrotizing fasciitis infection. This study presents one unique case of an unvaccinated COVID+ patient and the necrotizing fasciitis infection that resulted.
Keywords
COVID-19, necrotizing fasciitis
Recommended Citation
Sajjad R, Johnson C, Baatile-Ajrouche J. COVID-19 and incidence of necrotizing fasciitis: a case study. Presented at Beaumont Hospital Farmington Hills 2022 Alvin Yarrows Research Day; 2022 May; Farmington Hills, MI.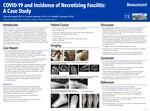 Included in
COinS