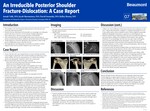 Description
Introduction • The shoulder is the most frequently dislocated joint in the body, but most commonly dislocated anteriorly • Posterior fracture-dislocations of the shoulder are exceedingly rare orthopedic injuries that only account for 2-5% of traumatic shoulder dislocations • These injuries have a reported annual prevalence of 0.6/100,0001 • Most commonly they are a result of high energy trauma, electrocution, or seizures caused by forced flexion, adduction and internal rotation of the shoulder • Timely diagnosis is critical for appropriate early treatment in order to help prevent complications such as avascular necrosis • Thorough physical and radiographic examination are needed to confirm diagnosis which may be missed or delayed in up to 79% of cases.
Keywords
shoulder fracture, shoulder dislocation
Recommended Citation
Valk J, Shermetaro J, Sosnoski D, Brossy K. An irreducible posterior shoulder fracture-dislocation: a case report. Presented at Beaumont Hospital Farmington Hills 2022 Alvin Yarrows Research Day; 2022 May; Farmington Hills, MI.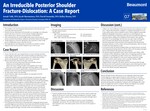 COinS