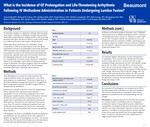 Description
Postoperative analgesia is a significant challenge following major spine surgery. Utilizing a combination of opioid and non-opioid medications, optimizing their analgesic benefits while decreasing unwanted side effects, has been an effective multi-modal strategy in an Enhanced Recovery After Surgery (ERAS) protocol.
Keywords
Postoperative analgesia, spine surgery
Disciplines
Anesthesiology | Cardiology | Laboratory and Basic Science Research | Orthopedics
Recommended Citation
Smith G, Easton R, Shah K, Silvashi, Lipphardt M, Silvasi D, et al [George J, Williamson B, Vibert B, Ahlgren B, Papakonstantinou N] What is the incidence of QT prolongation and life-threatening arrhythmia following IV methadone administration in patients undergoing lumbar fusion? Poster presented at: The 2022 Annual Congress of Enhanced Recovery and Perioperative Medicine; 2022 May 11-13 ; Baltimore, MA.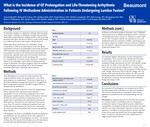 COinS