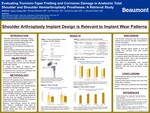 Description
Objectives:
- To identify wear patterns in the male and female components of hemi and total shoulder arthroplasty implants
- To assess the impact of different metal compositions between implant components
- To determine what component combination has the lowest trunnion tribo-corrosion
Publication Date
4-28-2022
Keywords
shoulder surgery, prostheses
Recommended Citation
Tooley T, Maxwell M, Penvose I, Koueiter D, Wiater JM. Evaluating trunnion-taper fretting and corrosion damage in anatomic total shoulder and shoulder hemiarthroplasty prostheses: a Retrieval study. Poster presented at: Beaumont Health 50th Annual Resident & Fellow Research Forum; April 28, 2022, Royal Oak MI.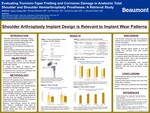 COinS