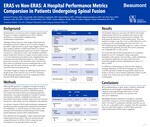 Description
Hospital metrics are measures used to evaluate surgical quality. The goal is to improve standards of care (SOC). Hospital performance is made publicly available and has reimbursement ramifications.
Keywords
Hospital metrics, standards of care, reimbursement, Enhance Recovery After Surgery
Disciplines
Anesthesiology | Laboratory and Basic Science Research | Nursing
Recommended Citation
Easton R, Smith G, Lipphardt M, Silvasi D, Papakonstantinou N, Chen NW et al [Vibert B, Vander Beek S] Eras vs non-eras: a hospital performance metrics comparison in patients undergoing spinal fusion. Poster presented at: The 2022 Annual Congress of Enhanced Recovery and Perioperative Medicine; 2022 May 11-13 ; Baltimore, MA.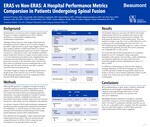 COinS