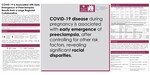 Description
An increased risk of preeclampsia (RR=1.8), driven almost entirely by an increase in preterm preeclampsia (RR=2.85) was observed in COVID pregnancies (Table 1), with a dose-response relationship with symptomatology and severity (Table 2).
▪ The associations between COVID-19 disease and preeclampsia or preterm preeclampsia were independent of other risk factors, as demonstrated by the minimal changes in RR after adjustment for confounders (Table 1). However, African American (AA) COVID patients experienced preterm preeclampsia 1.9 times more than COVID patients of other races (10.1 vs 5.3), an increase not observed in control patients.
▪ The strength of the association for COVID with preeclampsia was comparable to the association of preeclampsia with chronic hypertension and nulliparity (data not shown).
▪ Increasing symptoms & severity of COVID-19 were associated with an increased risk for preeclampsia with placental lesions, even after adjustment for relevant covariates (Tables 1& 2).
▪ Non-Preeclamptic COVID patients had an increased trend of placental lesions compared to non-COVID patients, reaching significance for intravillous thrombin.
Publication Date
2-4-2022
Keywords
COVID-19, Preeclampsia, Preterm, Pregnancies, African American
Disciplines
Obstetrics and Gynecology
Recommended Citation
Hasbini Y, Goyert G, Tarca A, Keerthy M, Jones T, Thiel L, et al [Sajja S, Bahado-Singh R] COVID-19 is associated with early emergence of preeclampsia: results from a large regional collaborative. The SMFM's 42nd Annual Pregnancy Meeting; 2022 Feb 4; Virtual.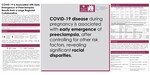 COinS