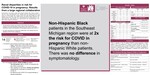 Description
Though previous studies have looked at both COVID-19 outcomes in pregnancy and racial disparities among patients with COVID-19, few have specifically studied racial disparities among pregnant patients with COVID-19.
Our goal in this study is to analyze the relationship, if any, between race and disparate COVID-19 risk in pregnancy.
Publication Date
2-4-2022
Keywords
COVID-19, outcomes, pregnancy, racial disparities
Disciplines
Obstetrics and Gynecology
Recommended Citation
Ismailova I, Sokol R,Gudicha D, Hasbini Y, Tarca A, Green P et al [Jones T, Sajja S, Bahado-Singh R] Racial disparities in risk for COVID-19 in pregnancy: results from a larger regional collaborative. The SMFM's 42nd Annual Pregnancy Meeting; 2022 Feb 4; Virtual.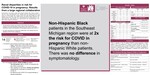 COinS