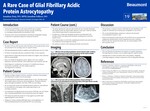 Description
• Autoimmune glial fibrillary acidic protein (GFAP) astrocytopathy is a rare autoimmune inflammatory disorder typically manifesting as a meningoencephalomyelitis first identified in 20161 . • Awareness of the clinical manifestations and hallmark radiographic findings is important for appropriate diagnostic testing and treatment.
Keywords
glial fibrillary acid protein
Recommended Citation
Doty J, Fellows J. A rare case of autoimmune glial fibrillary acidic protein astrocytopathy. Presented at Beaumont Hospital Farmington Hills 2022 Alvin Yarrows Research Day; 2022 May; Farmington Hills, MI.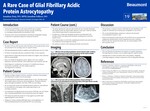 COinS