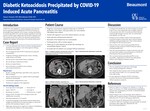 Description
Gastrointestinal manifestations of COVID-19 infection are increasingly being recognized, such as nausea, vomiting, and diarrhea. Research into the pathophysiology is ongoing. I present a case of a 52-year-old female without a history of diabetes who presented to the emergency room with progressive lethargy and altered mental status. Her tests results were consistent with diabetic ketoacidosis with glycemia 1440 mg/dL, venous pH 7.23, beta hydroxybutyrate of 7.53 mmol/L, bicarbonate 14 mmol/L, and anion gap 32. COVID-19 (SARSCoV- 2) testing by nucleic acid amplification was positive on admission. She was admitted to the intensive care unit and started on an insulin drip. Her severe abdominal pain led to the diagnosis of acute pancreatitis with lipase >1200 U/L and computed tomography of the abdomen showed inflammatory changes around the head of the pancreas and second portion of the duodenum. Workup for the cause of her pancreatitis was unrevealing. A right upper quadrant ultrasound negative for evidence of cholelithiasis, common bile duct dilation or liver abnormalities. She denied alcohol and drug use, which was confirmed with a negative blood alcohol level and urine drug screen on admission. Furthermore, she was not taking any medications prior to arrival, specifically those known to cause pancreatitis. She was diagnosed with diabetes mellitus during this admission and DKA was the presenting situation precipitated by COVID-19 pancreatitis. She was treated with intravenous fluids and supportive care. The remainder of her hospital stay was unremarkable. She was discharged home with an insulin regimen, and her HbA1C two months later was 8.3%. Follow-up CT of the abdomen one month after discharge showed no abnormalities. Literature review revealed a study in China reported an elevated incidence of pancreatic injury with few exhibiting hyperglycemia, and without a diagnosis of acute pancreatitis (1). There are few cases of acute pancreatitis that are classified as being caused by COVID-19 infection (2). However, none of these reported a complication of DKA. This case demonstrates pancreatitis and DKA as rare, yet possible, complications of COVID-19 and emphasizes the importance of thorough history-taking and diagnostic evaluation.
Publication Date
5-13-2022
Keywords
diabetic ketoacidosis, COVID-19
Disciplines
Critical Care | Internal Medicine | Pulmonology
Recommended Citation
Tennant T, Dalal B. Diabetic ketoacidosis precipitated by COVID-19 induced acute pancreatitis. Poster presented at: The American College of Physicians Michigan Chapter Residents Day / Medical Students Day; 2022 May 13; Dearborn, MI.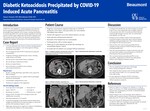 COinS