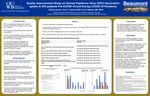 Description
INTRODUCTION HPV is strongly associated with cervical cancer and cancers of vagina, vulva, penis, anus, rectum. In 2019, WHO identified vaccine hesitancy as top 10 global threats and planned to increase the HPV vaccine coverage. In June 2019 Advisory Committee on Immunization Practices (ACIP) in the US recommended shared clinical decision-making regarding HPV vaccinations in adults aged 26 through 45 years. The goal of this project is to evaluate the uptake of HPV vaccination and challenges in the HIV patients at Beaumont Hospital.
Publication Date
5-2-2022
Keywords
HIV, human papilloma virus
Disciplines
Infectious Disease
Recommended Citation
Akram H, Johnson P, Mathew T. Quality improvement study on human papilloma virus (HPV) vaccination uptake in HIV patients. Poster presented at: Oakland University William Beaumont School of Medicine Embark Capstone Colloquium; 2022 May 2; Rochester Hills, MI.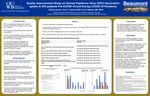 Included in
COinS