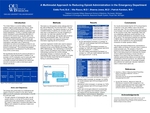 Description
INTRODUCTION
The United States is battling a deadly epidemic against opioid abuse and misuse, which began as a result of pharmaceutical companies purposely downplaying the addictive potential of their opioid medications. In 2016, a Colorado health care system developed a groundbreaking alternative to opioids (ALTO) protocol for acute pain relief in the Emergency Department (ED). This protocol was adapted and implemented in the Beaumont Troy ED and is the focus of this current study. The primary goal of this study is to characterize the impact of the ALTO protocol on the rate of opioid and non-opioid administration in the ED for acute pain relief.

METHODS
A retrospective chart review of ED admission/discharge data and medication administration data for adult patients was completed for the control cohort (pre-ALTO) and ALTO intervention group during the study period of April 2018 – August 2019. To ensure accurate comparison of medications used, a standardizing procedure of calculating morphine equivalent units (MEUs) was utilized. Variables were statically analyzed and presented through a log-linear regression model and monthly percentage change (MPC) over time.

RESULTS
During the study period, the rate of MEUs administered decreased by 1.05% per month MPC = -1.05%, P = 0.0018. Compared to the control group, ALTOs administered increased on average by 2.36% per month MPC = 2.36%, P =

CONCLUSIONS
The results support the hypothesis that the ALTO protocol would lead to a reduction in the rate of opioids used for acute pain relief while also increasing the rate of ALTOs used for acute pain relief in the ED. This research will contribute to the production of universally accepted and preferred non-opioid pain reduction protocols in order to limit future opioid misuse and abuse.
Publication Date
5-2-2022
Keywords
opioids, emergencies
Disciplines
Emergency Medicine
Recommended Citation
Ford E, Rocco V, Jones J, Karabon P. A Multimodal approach to reducing opioid administration in the emergency department. Poster presented at: Oakland University William Beaumont School of Medicine Embark Capstone Colloquium; 2022 May 2; Rochester Hills, MI.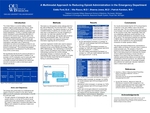 Included in
COinS