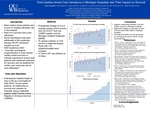 Description
INTRODUCTION
Current guidelines recommend deferring prognostic decisions for at least 72 hours following admission after Out of Hospital cardiac arrest (OHCA). Most non-survivors experience withdrawal of life-sustaining therapy (WLST), and early WLST may adversely impact survival. We sought to characterize the hospital length of stay (LOS) and timing of Do Not Resuscitate (DNR) orders (as surrogates for WLST) to assess their relationship to survival following cardiac arrest.
METHODS
We performed a retrospective cohort study of probabilistically linked cardiac arrest registries (Cardiac Arrest Registry to Enhance Survival (CARES) and Michigan Inpatient Database (MIDB) from 2014 to 2017.
RESULTS
We included 3644 patients from 38 hospitals with >30 patients. The patients' mean age was 62.4 years and were predominately male (59.3%). LOS ≤ 3 days (ORadj = 0.11) and early DNR (ORadj = 0.02) were inversely associated with survival to discharge. There was a non-significant inverse association between hospital rates of LOS ≤ 3 days and survival (p = 0.11) and Early DNR and survival (p = 0.83). In the multilevel model, using median odd ratios to assess variation in LOS ≤ 3 days and survival, patient characteristics contributed more to variability in survival than between-hospital variation. However, between-hospital variation contributed more to variability than patient characteristics in the provision of early DNR orders.
CONCLUSIONS
We observed that LOS ≤ 3 days for post-arrest patients was negatively associated with survival, with both patient characteristics and between-hospital variation associated with outcomes. However, between-hospital variation appears to be more highly associated with the provision of early DNR orders than patient characteristics. Further work is needed to assess variation in early DNR orders and their impact on patient survival.
Publication Date
5-2-2022
Keywords
cardiac arrest, resuscitation
Disciplines
Emergency Medicine
Recommended Citation
Song J, Berger DA, Paxton JH, Miller JB, Reynolds J, Chen NW et al. [Swor R] Cardiac arrest patient length of stay and survival in Michigan hospitals. Poster presented at: Oakland University William Beaumont School of Medicine Embark Capstone Colloquium; 2022 May 2; Rochester Hills, MI.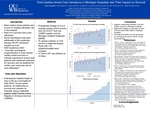 Included in
COinS