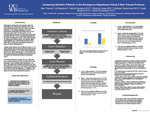 Description
INTRODUCTION
The Level III trauma protocol was implemented to reduce time to diagnosis and treatment for elderly patients (defined as patients aged > 65 who are taking anticoagulant/antiplatelet agents) presenting in the ED with a potential head injury after a fall. In 2017, approximately 11.4% of the patients triaged by the new Level III trauma protocol had an intracranial bleed, which is a population that had previously been overlooked as they have a low index of suspicion for an intracranial bleed. This study sought to determine if the recent implementation of the Level III trauma protocol in the Troy Beaumont Emergency Department (ED) has led to better health outcomes for this population.
METHODS
The researchers retrospectively reviewed the charts of patients who met the inclusion criteria and had an intracranial bleed on computed tomography (CT). The patients were split into two groups based on if they were triaged before (N = 12) or after (N = 56) the level III trauma protocol was implemented. Time spent in the ED and patient centered health outcomes were collected and t-test analyses were completed to compare the pre and post level III trauma protocol groups.
RESULTS
The average time from arrival in the ED to CT (2.37 hours) and time spent in the ED (ED LOS) (4.72 hours) for the pre-level III trauma group were significantly longer than the average time to CT (0.64 hours) and ED LOS (2.55 hours) for the post-level III trauma group (p < 0.01). There was insufficient evidence to conclude that there was any difference in health outcomes between the pre and post Level III trauma groups (p > 0.05).
CONCLUSIONS
This suggests that the Level III trauma protocol reduces the time to diagnosis, treatment, and ED LOS for the high-risk elderly population with an intracranial bleed without negatively impacting health outcomes.
Publication Date
5-2-2022
Keywords
trauma, geriatric
Disciplines
Emergency Medicine
Recommended Citation
Travers B, Beydoun A, Karabon P, Jones S, Opsommer M, Bastani A, Donaldson D. Assessing geriatric patients in the emergency department using a new trauma protocol. Poster presented at: Oakland University William Beaumont School of Medicine Embark Capstone Colloquium; 2022 May 2; Rochester Hills, MI.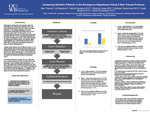 Included in
COinS