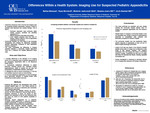 Description
INTRODUCTION
Ultrasound (US) is the first line imaging used for suspected pediatric appendicitis. However, following equivocal US findings and its lower negative predictive value for ruling out appendicitis, Computed Tomography (CT) imaging is often performed in children. This study investigates the differences in imaging utilization between a community hospital (Beaumont Troy) and a children's ED hospital (Beaumont Royal Oak), making it the first study to evaluate suspected pediatric appendicitis in Beaumont Health System. It also aims to further characterize differences in patient outcomes such as surgery, length of hospital stay, complications of appendicitis, and highlight the need to reduce unnecessary CT use due to its radiation exposure.
METHODS
Following IRB approval, this retrospective mixed-methods chart review analyzed patients ages 4-17, who initially received an abdominal US in the ED for abdominal pain associated with suspected appendicitis between January 1st, 2016 – January 1st, 2019 in Beaumont Troy and Royal Oak hospitals. Variables of interests were compared between hospitals using unequal variance two sample t-test, Chi-Square, and Fisher Exact tests. Pathology reports determined a definitive diagnosis of appendicitis.
RESULTS
In the ED, 1,672 patients (1113 from Royal Oak, 559 from Troy) were suspected to have appendicitis. The community hospital performed significantly more CT imaging (P=0.0007), had longer length of stay in the ED (P
CONCLUSIONS
This study confirmed our prediction and prior studies showing the community hospital utilizing more CT imaging for suspected appendicitis than the children's hospital, despite no difference in surgical interventions or complication rates at the community hospital. Further investigation is necessary to decrease reliance on CT imaging after equivocal US findings in Beaumont Health System.
Publication Date
5-2-2022
Keywords
appendicitis, pediatrics, ultrasound
Disciplines
Emergency Medicine
Recommended Citation
Bhuiyan N, Nierstedt R, Jankowski M, Jones S, Bastani A. Differences within a health system : Imaging use for suspected pediatric appendicitis. Poster presented at: Oakland University William Beaumont School of Medicine Embark Capstone Colloquium; 2022 May 2; Rochester Hills, MI.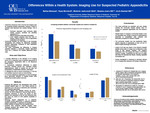 Included in
COinS