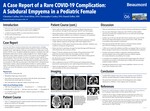 Description
• There have been few reported cases of intracranial complications in patients with COVID-19 and even fewer cases in children.
• A subdural empyema (SDE) is an intracranial abscess between the dura and arachnoid mater.
• A SDE usually occurs due to sinusitis, most commonly the frontal sinus, or acute otitis media
Keywords
COVID-19 complications, subdural empyema
Disciplines
Emergency Medicine | Pediatrics
Recommended Citation
Carlline C, Klein S, Cooley C, Zoller D. A case report of a rare COVID-19 complication: a subdural empyema in a pediatric female. Presented at Beaumont Hospital Farmington Hills 2022 Alvin Yarrows Research Day; 2022 May; Farmington Hills, MI.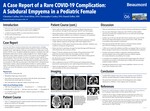 COinS