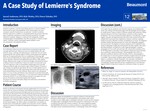 Chapter Title
Description
Introduction Lemierre's syndrome, a rare but severe disease process, is a clinical condition characterized by septic thrombophlebitis of the internal jugular vein most commonly caused by Fusobacterium necrophorum. Lemierre's syndrome should be suspected in a pediatric or young adult patient who presents with acute signs of septicemia, pneumonia or lateral neck pain preceded by viral upper respiratory symptoms. Diagnosis is confirmed with radiographic evidence of internal jugular thrombophlebitis with either bacteremia or evidence of septic emboli2 . Treatment consists of prolonged targeted antibiotic course and, infrequently, anticoagulation therapy.
Keywords
Lemierre's Syndrome
Disciplines
Emergency Medicine
Recommended Citation
Wesley K, Anderson J, Zelenka D. A case study of Lemeirre's Syndrome. Presented at Beaumont Hospital Farmington Hills 2022 Alvin Yarrows Research Day; 2022 May; Farmington Hills, MI.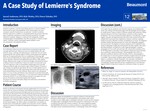 COinS