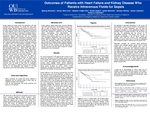 Description
INTRODUCTION
Sepsis core measures are an integral part of sepsis treatment. Current fluid administration guidelines consist of administering at least 30cc/kg of intravenous fluids (IVF) per ideal body weight (IBW) within the first three hours of sepsis diagnosis regardless of pre-existing comorbidities at risk for fluid overload. This study aims to evaluate the outcomes of patients with a history of congestive heart failure (CHF) and/or chronic kidney disease (CKD) who receive fluid resuscitation for the management of severe sepsis or septic shock.
Publication Date
5-2-2022
Keywords
congestive heart failure, sepsis, septic shock
Disciplines
Emergency Medicine
Recommended Citation
Wiczorek M, Otero R, Knight S, Ziadeh K, Blumline J, Rollins Z. Outcomes for patients with congestive heart failure and chronic kidney disease receiving fluid resuscitation for severe sepsis or septic shock. Poster presented at: Oakland University William Beaumont School of Medicine Embark Capstone Colloquium; 2022 May 2; Rochester Hills, MI.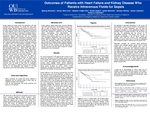 Included in
COinS