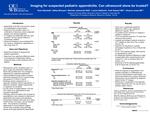 Description
INTRODUCTION
Diagnosis of pediatric appendicitis relies on a combination of laboratory results, diagnostic imaging, and clinician judgement. However, the necessity of CT imaging has been questioned given radiation exposure. Therefore, ultrasound imaging has become a useful diagnostic tool, yet its sensitivity in identifying appendicitis is often lower in comparison to CT. This study aims to determine the sensitivity of US imaging for pediatric appendicitis and if differences exist in the diagnosis of appendicitis utilizing both CT and ultrasound or ultrasound alone.
METHODS
After obtaining IRB approval, patients 4-17 years of age who received an abdominal ultrasound and/or additional abdominal CT imaging at Beaumont Royal Oak and Troy emergency departments between January 1st, 2016 and January 1st, 2019 were reviewed. Radiology reports were reviewed to determine if the appendix was visualized, and if a diagnosis positive or negative for appendicitis was made. Comparisons between imaging modalities were done using Fisher's Exact tests and sensitivity of predicting appendicitis between imaging cohorts were computed using reviewed pathology reports, when present, as the gold standard for appendicitis.
RESULTS
1,672 patients were included in our cohort (1,113 from Royal Oak, 559 from Troy). 77% of patients with suspected appendicitis only received an ultrasound, while 23% underwent additional CT imaging. Of the 1,672 patients imaged for appendicitis, 384 received an appendectomy (23%). For positive ultrasound tests, there was no difference in the rates of appendicitis in those who received CT imaging and ultrasound when compared to those who received ultrasound alone (p>0.99). The sensitivity in determining appendicitis using ultrasound alone was 0.95 for Royal Oak and 0.93 for Troy.
CONCLUSIONS
While the diagnosis of appendicitis in the pediatric population is multifaceted and should be individualized to each patient, our data demonstrates that a positive ultrasound finding alone may be sufficient for diagnosis without further CT imaging.
Publication Date
5-2-2022
Keywords
appendicitis, pediatrics, ultrasound
Disciplines
Emergency Medicine
Recommended Citation
Nierstedt R, Bhuiyan N, Jankowski M, DeSantis L, Bastani A, Jones S. Imaging for suspected pediatric appendicitis: Can ultrasound alone be trusted? Poster presented at: Oakland University William Beaumont School of Medicine Embark Capstone Colloquium; 2022 May 2; Rochester Hills, MI.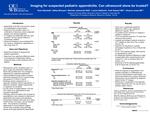 Included in
COinS