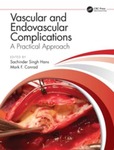 Chapter Title
Complications of Inferior Vena Cava Filters
Book Title
Vascular and Endovascular Complications: A Practical Approach
Editors
Hans SS, Conrad MF
Description
This chapter will characterize complications from inferior vena cava (IVC) filter placement, such as access issues and filter malposition; late complications, such as filter fracture, migration, perforation and thrombosis; and those related to filter retrieval. However, a subset of patients develop bleeding complications or sustain a PE while on therapeutic anticoagulation. Vascular access complications for IVC filter insertion vary from 4-11%, similar to those for central venous catheter insertion. The authors routinely perform ultrasound-guided sheath placement, which may decrease access site complications. Rates of recurrent PE for patients with metastatic disease are reported at 10.4%, compared to 2.3% in those with non-metastatic malignancy. Reports in the literature describe its successful use for acute iliocaval thrombosis. Complications for retrieval performed within 30 days of filter placement are rare, and there are increasing numbers of the reports demonstrating safe retrieval with increasing dwell times.
Publication Date
4-30-2021
Recommended Citation
Major MT, Bove PG, Long GW. Complications of inferior vena cava filters. In: Hans SS, Conrad MF, editors. Vascular and endovascular complications: a practical approach. Boca Raton: CRC Press; 2021. p. 95-103.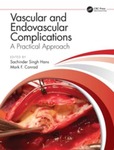 COinS