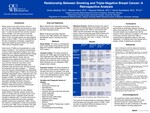 Description
INTRODUCTION
Breast cancer is currently the most common cancer by incidence among women in the United States with high mortality. Compared to other specific types, triple-negative breast cancer (TNBC) is considered to be an aggressive cancer with poor prognosis. Hence, it is important to study the risk factors associated with it. Smoking has been implicated in many cancers, including breast cancer. However, there is no evidence in literature that has shown a relationship between smoking and a specific type of breast cancer. The goal of this study is to analyze the relationship between smoking and TNBC so that we may improve the understanding of the risk factors related to this type of breast cancer.
Publication Date
5-2-2022
Keywords
smoking, breast neoplasms
Recommended Citation
Jahshan A, Aoun M, Dekhne N, Taranikanti V. Relationship between smoking and triple-negative breast cancer: A Retrospective analysis. Poster presented at: Oakland University William Beaumont School of Medicine Embark Capstone Colloquium; 2022 May 2; Rochester Hills, MI.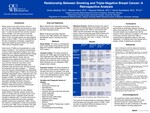 Included in
COinS