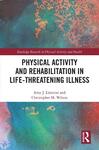 Chapter Title
Physical Activity and Rehabilitation in Life-threatening Illness
Description
This book is a comprehensive summary of the recommendations for best practice, and current evidence, for physical activity and rehabilitation of functional deficits in individuals with end-stage diseases. While advances in technology have afforded us the opportunity to live longer lives, it has also demanded an expansion of focus of medical interventions towards palliative care to enhance the quality of life.
Physical activity has been proven to have a substantial impact and protective effects on virtually all medical conditions. During curative management, but especially during transitional phases to palliative care, other strategies need enhanced consideration to complement the existing plan of care and help to improve patient's quality of life. Ideally, physical medicine would be at the forefront of allowing individuals to live their best life until the very end.
Physical Activity and Rehabilitation in Life-threatening Illness is key reading for academics and policy makers in physical activity, international exercise, wellness and rehabilitation, and related disciplines, as well as research-focused clinicians in settings wher
Keywords
rehabilitation, palliative care
Disciplines
Rehabilitation and Therapy
Recommended Citation
Litterini A, Wilson C. Physical activity and rehabilitation in life-threatening illness. New York: Routledge, 2022.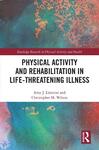 COinS