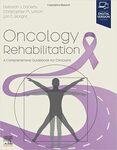 Chapter Title
Acute Care and Inpatient Management
Book Title
Oncology Rehabilitation: A Comprehensive Guidebook for Clnicians
Editors
Doherty, DJ, Wilson CM, Boright LE
Description
Description:
Coverage of physical therapy patient management includes acute care, outpatient, and multidisciplinary clinical settings, along with in-depth therapeutic management interventions.
Content on the continuum of cancer care addresses the primordial, primary, secondary, tertiary, and quaternary stages in prevention and treatment.
Focus on clinicians includes the professional roles, responsibilities, self-care, and values of the oncology rehabilitation clinician as an integral member of the cancer care team.
Keywords
cancer patients, rehabilitation, physical therapy
Disciplines
Nursing | Oncology | Physical Therapy
Recommended Citation
Witczak C, Burns G, Barbe C. In: Doherty DJ, Wilson CM, Boright LE (eds.) Oncology rehabilitation: a comprehensive guidebook for clinicians. St. Louis: Elsevier; 2022, p.574-603.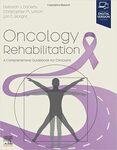 COinS