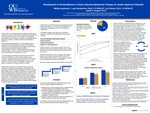 Description
INTRODUCTION
The current study will explore the relationships between motor imitation (MI) and verbal requesting skills in children who are diagnosed with autism spectrum disorder (ASD). With nearly half of children with ASD evidencing minimal verbal skills, supporting language development is crucial in interventions. Early, intensive behavioral intervention (EIBI) is recommended to help children achieve better developmental outcomes. Functional language training often begins with the verbal requesting skill, MAND. Research suggests that a series of rapid motor imitations before a vocal model could facilitate vocal speech, but little is known about how MI can longitudinally influence functional language development. This retrospective, cohort study with MI skill level subgroups (low, medium and high) will explore whether the development of MI skills correlates with greater MAND progress in pediatric patients with ASD.
Publication Date
5-2-2022
Recommended Citation
Jayakumar M, Hendershot L, Warner L, Grogan JF. Development of verbal behavior in early, intensive behavioral therapy for autism spectrum disorder. Poster presented at: Oakland University William Beaumont School of Medicine Embark Capstone Colloquium; 2022 May 2; Rochester Hills, MI.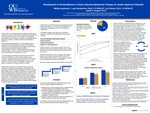 Included in
COinS