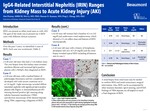 Description
IRIN can present as either renal mass or with AKI. The goal of the study was to present our 4 IRIN cases with different clinical scenarios.
Keywords
Interstitial Nephritis, Acute Kidney Injury
Recommended Citation
Elzieny M, Li W, Kanaan HD, Zhang P. IgG4-related nephritis ranges from kidney mass to acute kidney injury. Poster presented at: The College of American Pathologists 2022 Annual Meeting (CAP22); 2022 October 10 ; New Orleans, LA.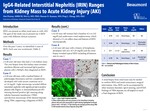 COinS