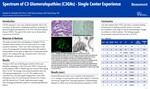 Description
C3GNs represent a rare type of glomerulopathy due to the activation of alternative complement pathway, including C3 dominant glomerulonephritis (C3D-GN) and dense deposit disease (DDD). The goal of this study was to demonstrate a spectrum of C3GNs.
Publication Date
10-10-2022
Keywords
Glomerulopathies, dense deposit disease
Recommended Citation
Deebajah M, Li W, Kanaan H, Zhang P. Spectrum of C3 glomerulopathies (C3GNs) – single center experience. Poster presented at: The College of American Pathologists 2022 Annual Meeting (CAP22); 2022 October 10; New Orleans, LA.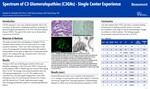 COinS