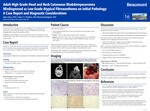 Description
Adult head and neck rhabdomyosarcoma (AHNRMS) is an exceedingly rare soft-tissue sarcoma (STS). We describe a case of AHNRMS that was initially misdiagnosed as atypical fibroxanthoma (AFX). Rhabdomyosarcoma (RMS) is a mesenchymal soft tissue sarcoma that arises from skeletal muscle origin. RMS is most common in the pediatric population, occurring rarely in adults.
Keywords
rhabdomyosarcoma
Disciplines
Otolaryngology
Recommended Citation
Sims J, Walters CV, Korkigian S. Adult high-grade head and neck cutaneous rhabdomyosarcoma misdiagnosed as low-grade atypical fibroxanthoma on initial pathology: a case report and diagnostic considerations. Presented at Beaumont Hospital Farmington Hills 2022 Alvin Yarrows Research Day; 2022 May; Farmington Hills, MI.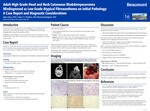 COinS