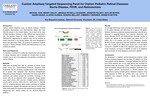 Description
INTRODUCTION
DNA-sequencing is not readily available in countries with little research resources or where health insurance does not cover the costs. This is especially true for very rare (orphan) inheritable retinal diseases. We wanted to develop a rapid targeted-sequencing protocol for eight genes involved in Familial Exudative Vitreo-Retinopathy (FEVR), Norrie Disease, and Retinoschisis, at greatly reduced cost.
Publication Date
5-2-2022
Disciplines
Ophthalmology
Recommended Citation
Sun M, Dailey W, Cicerone AP, Felisky J, Moyer K, Haque N et al. [Drenser K] Custom ampliseq targeted sequencing panel for orphan pediatric retinal diseases: Norrie disease, FEVR, and retinoschisis. Poster presented at: Oakland University William Beaumont School of Medicine Embark Capstone Colloquium; 2022 May 2; Rochester Hills, MI.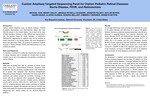 Included in
COinS