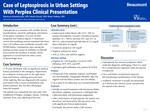 Description
Introduction
Leptospirosis is a zoonosis with variable clinical manifestations caused by pathogenic spirochetes of the genus Leptospira. It occurs in both temperate and tropical regions. A systematic review and modeling exercise estimated that there were 1.03 million cases worldwide annually with 58,900 deaths. Leptospirosis stays among the leading zoonotic causes of morbidity worldwide and accounts for numbers of deaths, which approach or exceed those for other causes of hemorrhagic fever.
Discussion
Leptospirosis has unusual symptoms which make the diagnosis challenging. There is a need for a comprehensive approach when the disease is suspected. • Liver and kidney involvement represent life-threatening manifestations of the disease. • Antibiotic treatment is usually recommended as it shortens the clinical course and prevents the spread of the disease.
Disciplines
Internal Medicine
Recommended Citation
Strubchevska K, Kozyk M, Nadeau B. Case of leptospirosis in urban settings with perplex clinical presentation. American College of Physicians Michigan Chapter Annual Scientific Meeting; 2022 Oct 13-16; Bellaire, MI.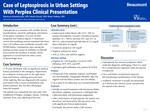 COinS