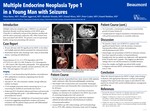 Description
Introduction
Multiple endocrine neoplasia type 1 (MEN1) is an autosomal dominant disorder involving mutation of the MEN1 gene. Clinically it is defined by tumors of the pituitary, parathyroid, and the entero-pancreatic endocrine cells. Other tumors have been associated with MEN1. We present a case of a previously healthy young man presenting with seizures.
Discussion
We present a classic case of MEN1 in a patient with significant family history with the presence of primary hyperparathyroidism, pituitary microadenoma, and duodenopancreatic NETs. • Interestingly, rare presentation of MEN1 as refractory seizures have been reported secondary to hyperinsulinemic hypoglycemia, but our patient was euglycemic with appropriate levels of insulin and C-peptide. This suggests an alternative etiology that is not well documented in available literature. • Given the complex and highly specialized skills needed to diagnose and treat MEN1, involvement of a multidisciplinary team is vital.
Conclusion When the clinical suspicion for MEN1 is high, endocrinology evaluation with appropriate laboratory workup and targeted imaging of the typical endocrine organs as described for this patient are advised with careful multidisciplinary management and follow-up.
Keywords
MEN1, multiple endocrine neoplasia type 1, mutlidisciplinary
Disciplines
Endocrinology, Diabetes, and Metabolism | Internal Medicine | Surgery
Recommended Citation
Batra N, Aggarwal N, Niroula S, Misra D, Czako P, Shelden D. Multiple endocrine neoplasia type 1 in a young man with seizures. American College of Physicians Michigan Chapter Annual Scientific Meeting; 2022 Oct 13-16; Bellaire, MI.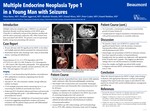 COinS