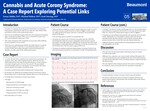 Description
Introduction • Cannabis is a commonly abused drug in the United States. It is paramount that physicians understand the risks of its use that may impact patient safety, particularly its effects on the cardiovascular system. • There are two cannabinoid receptors which the active component of marijuana, delta-9- tetrahydrocannabinol (THC), acts on: Cannabinoid receptor type 1 (CB1 ) and cannabinoid receptor type 2 (CB2 ). • THC causes stimulation of the sympathetic nervous system while inhibiting the parasympathetic nervous system. • While the precise pathophysiology behind myocardial infarction in patients consuming marijuana is unknown, it is postulated that sudden coronary occlusion is likely due to plaque disruption caused by the hemodynamic alterations cannabis causes on the cardiovascular system.
Keywords
Cannabis, coronary syndrome
Disciplines
Cardiology | Internal Medicine
Recommended Citation
Habba F, Hoban M, Searing S. Cannabis and acute coronary syndrome: a case report exploring potential links. Poster presented at Beaumont Hospital Farmington Hills 2022 Alvin Yarrows Research Day; 2022 May; Farmington Hills, MI.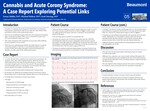 COinS