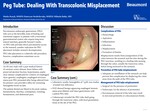 Chapter Title
Description
Introduction
Percutaneous endoscopic gastrostomy (PEG) tube acts as the favorable route of feeding and nutritional support in patients with a functional gastrointestinal system who require long-term enteral nutrition, generally beyond 4 weeks. As PEG tube provides direct percutaneous access to the stomach, another indication for PEG placement includes stomach decompression. PEG tube placement is a relatively safe procedure; however, complications sometimes occur.
Discussion
Complications of PEG: • Hemorrhage • Aspiration • Inflammation • Infections • Misplacement • Formation of fistulas Misplacement results from juxtaposition of the colon between the stomach and the skin during the PEG insertion, resulting in a feeding tube passing through the colon, usually the transverse colon, before being anchored in the stomach.
Prevention of PEG-tube misplacement: • Adequate air insufflation of the stomach can help prevent this complication by displacing the colon away from the path of the PEG tube
Management of PEG tube misplacement: • Surgical (in the presence of peritonitis) • Endoscopic (in the absence of peritonitis) • Percutaneous removal of the tube may result in stercoral peritonitis or colocutaneous fistula.
Keywords
percutaneous endoscopic gastrostomy, PEG tube, misplacement
Disciplines
Gastroenterology | Internal Medicine
Recommended Citation
Kozyk M, Strubchevsak K, Batke M. PEG tube: dealing with transcolonic misplacement. American College of Physicians Michigan Chapter Annual Scientific Meeting; 2022 Oct 13-16; Bellaire, MI.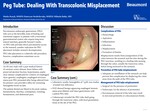 COinS