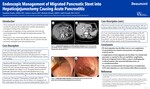 Description
• Trans-anastomotic pancreatic stents after the pancreatoduodenectomy are placed to decrease the complications, maintain ductal patency and support healing of the anastomosis. • Complications of migration of trans-anastomotic stent from the pancreatojejunostomy (PJ) through the hepaticojejunostomy (HJ) is rare. • We present a case of acute pancreatitis in the setting of pancreatic duct (PD) stent migration into the biliary tree in a patient who had previously undergone pancreaticoduodenectomy.
Keywords
pancreatitis, stent
Disciplines
Gastroenterology | Internal Medicine
Recommended Citation
Pandey S, Aneese A, Niroula S, Jamil L. Endoscopic management of migrated pancreatic stent into hepaticojejunnostomy causeing acute pancreatitis. American College of Gastroenterology Annual Scientific Meeting; 2022 Oct 21-26; Charlotte, NC.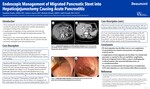 Included in
COinS