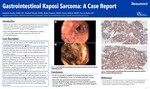 Chapter Title
Description
• Kaposi sarcoma (KS) in the gastrointestinal (GI) tract is an uncommon entity specially without any cutaneous manifestation since the introduction of HAART therapy in HIV patients. • Most of the gastrointestinal KS, remains undiagnosed as majority of KS is asymptomatic.(1) Here we present a case of GI- KS in a HIVAIDS patient.
Disciplines
Gastroenterology
Recommended Citation
Pandey S, Niroula S, Neupane R, Kakked G, Reddy N. Gastrointestinal Kaposi sarcoma: a case report. American College of Gastroenterology Annual Scientific Meeting; 2022 Oct 21-26; Charlotte, NC.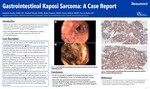 Included in
COinS