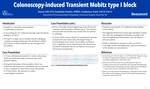 Chapter Title
Description
• Propofol is a commonly used anesthetic in endoscopic procedures. • It can prolong the AV conduction through vagal stimulation leading to AV block. • We report a unique case of a healthy female undergoing a routine screening colonoscopy who developed a Mobitz type I block, in which propofol was the sole agent used for sedation.
Keywords
Propofol, atrioventricular block
Disciplines
Gastroenterology
Recommended Citation
Gill I, Pandey S, Patel A. Colonoscopy-induced transient Mobitz type 1 block. American College of Gastroenterology Annual Scientific Meeting; 2022 Oct 21-26; Charlotte, NC.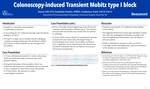 Included in
COinS