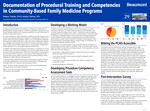 Description
Introduction
Training of common outpatient procedures is an integral and complex part of a Family Medicine residency program. In addition to graduation requirements, many Family Medicine residents strive to become competent in a variety of procedures to maintain a broad scope of practice. It can be a challenge for residency programs to deliver procedural training and have accurate documentation of procedure competency. Training is often predicated on patient volume and patient population exposure, so it can be difficult to adequately train and assess residents in the entire range of procedures. Additionally, programs face challenges such as limited resources, lack of a structured curriculum, limited funds, and lack of time. Smaller programs face even more hurdles, including fewer faculty and limited access to expensive equipment and skills labs. In addition to providing proper training, documentation of competency for various procedures comes with its own challenges, such as the use of paper forms, the costs associated with using a digital app or website for documentation, not having access to the procedure forms on elective or away rotations, the time delay between the preceptor observing the resident's procedure and documenting feedback, and the inefficiencies of data collection and interpretation. A needs assessment was performed by eleven Family Medicine program directors in Michigan regarding their current methods of procedural training along with challenges they face in training and documenting procedures.
Keywords
family medicine residency, graduate medical education
Disciplines
Family Medicine
Recommended Citation
Venida R, Nelson C. Documentation of procedural training and competencies in community-based family medicine programs. Poster presented at Beaumont Hospital Farmington Hills 2022 Alvin Yarrows Research Day; 2022 May; Farmington Hills, MI.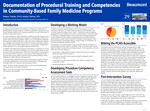 COinS