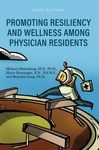 Chapter Title
Posttraumatic Growth and Resiliency Associated with Medical Mishaps in Residents
Book Title
Promoting Resiliency and Wellness among Physician Residents
Editors
Shabahang M, Hunsinger M, Lang B
Description
Featuring chapters written by practicing medical professionals and experts in the discipline, Promoting Resiliency and Wellness Among Physician Residents is designed to help current and future residents integrate facets of resilience and wellness in their lives to help them succeed in their medical training. The text emphasizes how work and family balance, self-care, and healthy eating, among other key strategies, can improve residents' quality of life during their training and lay the groundwork for them to become better doctors.
Part I provides readers with a glimpse into the lives of physician residents. The chapters discuss challenges related to maintaining morale during residency, as well as encountering stress, burnout, and depression. Part II focuses on resilience, with chapters that examine the biological underpinnings of resilience, professional identity formation, emotional intelligence, and more. In the final part, residents learn about the importance of social support, how to foster personal well-being, and the financial benefits associated with physician wellness.
Promoting Resiliency and Wellness Among Physician Residents is a critical resource for physician residents and other medical professionals who are interested in improving medical training programs.
Keywords
medical residents, wellness
Disciplines
Family Medicine
Recommended Citation
Dominick W, Mulhem E, Taku K. Promoting resiliency and wellness among physician residents. In: Shabahang M, Hunsinger M, Lang B, editors. Promoting resiliency and wellness among physicians residents. San Diego: Cognella, 2020. p. 85-96.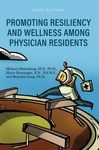 COinS