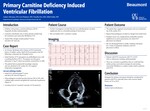 Keywords
carnitine deficiency, ventricular fibrillation
Disciplines
Cardiology | Internal Medicine
Description
Background: Children with primary carnitine deficiency (PCD) frequently develop cardiomyopathy; however it is not commonly seen in adults. Arrhythmias are less common and include forms of long QT-syndrome and ventricular fibrillation. ECG findings commonly involve peaked T-waves and short QT intervals that may resolve with supplementation of L-carnitine. Case presentation: An 18-year-old female with a family history of sudden cardiac death (SCD) presented to the emergency department following a witnessed out-of-hospital cardiac arrest. She was initially noted to be in ventricular fibrillation (VF) and was subsequently defibrillated twice on presentation. Her rhythm converted to supraventricular tachycardia at which time adenosine 6 mg IV was administered twice with reversion to sinus rhythm. ECG on presentation demonstrated peaked T waves and short QT interval. She was admitted to the cardiac intensive care unit for targeted temperature management. Carnitine level on admission was subtherapeutic at 1 nmol/mL (normal: 34-78 nmol/mL) due to suboptimal dosing at home. She was loaded with L-carnitine 12 g/day with repeat levels improving to 41 nmol/mL. Echocardiogram revealed an ejection fraction (EF) of 35% with a dilated right ventricle and global left ventricular hypokinesis. The patient later regained consciousness and was transferred out of the cardiac intensive care unit. Repeat echocardiogram two weeks later revealed no significant change in EF. Her hospital course was complicated by methicillinsensitive staphylococcus aureus pneumonia, for which ICD placement was delayed until completion of antibiotics. She was discharged home in stable condition with plans for 4 weeks of IV antibiotic therapy and close follow-up. Discussion: Primary carnitine deficiency can present as ventricular fibrillation with or without pre-existing cardiomyopathy in adults. Strategies for primary prevention of SCD should be considered in these patients, especially in those with a known family history of SCD.
Publication Date
5-13-2022
Recommended Citation
Sherman A, Madanat L, Pow T, Gulati A. Primary carnitine deficiency induced ventricular fibrillation. Poster presented at: The American College of Physicians Michigan Chapter Residents Day / Medical Students Day; 2022 May 13; Dearborn, MI.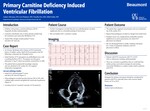 COinS