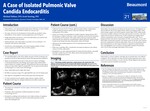 Keywords
endocarditis, pulmonic valve
Description
• Endocarditis is a rare and potentially lethal disease affecting 3 to 10 per 100,000 in the United States, with 40,000 to 50,000 new cases per year. • The major risk factors for development of endocarditis are prosthetic valves, hemodialysis, venous catheters, immunosuppression, and IV drug use. • Fungal endocarditis accounts for 1-10% of all endocarditis cases and has been associated with increased mortality. • Isolated pulmonic valve endocarditis is extremely rare accounting for < 2% of patients with infective endocarditis. • Transthoracic echocardiography is the initial imaging modality of choice and has sensitivity of 50-90%. TEE is 90-100% sensitive.
Recommended Citation
Hoban M, Searing S. A case of isolated pulmonic valve Candida endocarditis. Poster presented at Beaumont Hospital Farmington Hills 2022 Alvin Yarrows Research Day; 2022 May; Farmington Hills, MI.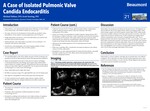 Included in
COinS