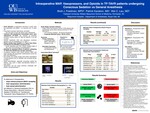 Keywords
anesthesia, transcatheter aortic valve replacement
Disciplines
Anesthesiology
Description
INTRODUCTION
Aortic stenosis is a progressive narrowing of the aortic valve that can cause serious cardiovascular harm such as syncope, heart failure, and death if left untreated. Transfemoral-transcatheter aortic valve replacement (TF-TAVR) emerged in the last 10 years as an alternative for previously inoperable, high-risk patients. Studies suggest that monitored anesthesia for TF-TAVR using minimalist conscious sedation results in better outcomes (e.g., shorter length of stay, lower 30-day mortality) when compared to general anesthesia. However, there is a gap in knowledge of why conscious sedation is more successful. Recent studies have demonstrated the association of intraoperative mean arterial pressure (MAP) variables including MAP variability (MAPV) and time-weighted average MAP (TWA-MAP) with 30-day mortality in non-cardiac surgery. We compared intraoperative variables for TF-TAVR patients that underwent conscious sedation versus general anesthesia.
Publication Date
5-2-2022
Recommended Citation
Friedman BJ, Karabon P, Lau WC. Intraoperative MAP, vasopressors, and opioids in TF-TAVR patients undergoing conscious sedation vs general anesthesia. Poster presented at: Oakland University William Beaumont School of Medicine Embark Capstone Colloquium; 2022 May 2; Rochester Hills, MI.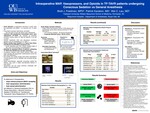 Included in
COinS