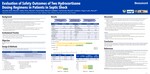 Description
• Steroids are used in shock to minimize the impact of shock-induced dysregulation of inflammatory response – Hydrocortisone is preferred for its activity as a glucocorticoid and a mineralocorticoid • Available data on the use of hydrocortisone shows mixed benefit – Data to guide dosing is limited, use of 100 mg IV every 8 hours may have benefit over 50 mg IV every 6 hours • Use of steroids has been associated with potential risks, including gastrointestinal bleeding, hyperglycemia, hypernatremia, superinfection, etc.
Publication Date
12-7-2022
Keywords
septic shock, hydorocortisone
Disciplines
Pharmacy and Pharmaceutical Sciences
Recommended Citation
Rola A, Wirtz J, Kalaj D, Rrushi V, Cadiz M. Evaluation of safety outcomes of two hydrocortisone dosing regimens in patients in septic shock. The ASHP Midyear 2022 Clinical Meeting & Exhibition; 2022 Dec 7; Las Vegas, NV.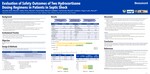 Included in
COinS