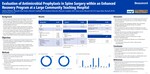 Description
The risk of surgical site infections post spine surgery is 0% to 18%.1
• American Society of Health System Pharmacists (ASHP) and Enhanced Recovery After Surgery (ERAS) Society guidelines recommend using an agent with activity against the most common surgical site pathogens including Staphylococcus aureus. 2,3
• The preferred agent is cefazolin 2 grams intravenous (IV) (3 grams if patient weighs ≥120 kilograms [kg]) administered 30 minutes prior to skin incision and re-dosed every four hours intraoperatively.2,3
• In the case of a cephalosporin allergy, clindamycin 900 milligrams (mg) IV or vancomycin 15 mg/kg IV are recommended alternatives.2,3
• Due to lack of appropriate documentation of allergies in the electronic medical record (EMR), alternative antimicrobials are often prescribed.
Publication Date
12-7-2022
Keywords
spine surgery, teaching hospital, prophylaxis
Disciplines
Pharmacy and Pharmaceutical Sciences
Recommended Citation
DiPietro S, Noskey K, Zoltowski K, Saeed T, Shah, S. Evaluation of antimicrobial prophylaxis in spine surgery within an enhanced recovery program at a large community teaching hospital. The ASHP Midyear 2022 Clinical Meeting & Exhibition; 2022 Dec 7; Las Vegas, NV.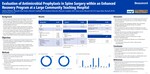 Included in
COinS