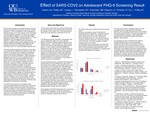 Chapter Title
Description
INTRODUCTION
The SARS-COV2 pandemic created numerous stressors for adolescents including financial insecurities, family illness or death, home schooling, discontinuation of group activities, and decreased peer interaction. Prior studies have shown an increased risk for self-reported depression symptoms in pediatric patients following traumatic events. The purpose of this study is to compare rates of newly diagnosed depression in adolescents and self-reported depression symptoms prior to and during the pandemic.
Publication Date
5-2-2022
Keywords
SARS-COV2, adolescent screening
Recommended Citation
Hashmi A, Pollak A, Ludwig L, Mychaliska K, Rubenstein M, Adeyemo O et al. [Shubeck S, Qu L, Coffey M] Effect of SARS-COV2 on adolescent PHQ-9 screening result. Poster presented at: Oakland University William Beaumont School of Medicine Embark Capstone Colloquium; 2022 May 2; Rochester Hills, MI.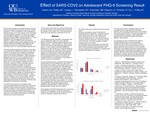 Included in
COinS