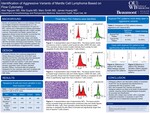 Description
INTRODUCTION
Mantle cell lymphoma (MCL) is a rare subtype of B-cell non-Hodgkin lymphoma characterized by a (1,14) translocation resulting in overexpression of cyclin D1.1 MCL variants and a heterogenous disease presentation make this a challenging diagnosis with a highly variable outcome. Pleomorphic and blastic variants have an aggressive clinical course and shorter survival than the classical type.2 The pleomorphic variant shows a marked variation in nuclear size, shape, and mitotic index.3 The blastic variant appears small and immature with fine chromatin mimicking acute leukemia.3 The aim of our study is to explore if flow cytometry analysis can help with the identification of aggressive MCL variants.
Publication Date
5-2-2022
Keywords
mantle cell lymphoma, cytometry
Recommended Citation
Nguyen A, Gupta A, Smith M, Huang J. Identification of aggressive variants of mantle cell lymphoma based on flow cytometry. Poster presented at: Oakland University William Beaumont School of Medicine Embark Capstone Colloquium; 2022 May 2; Rochester Hills, MI.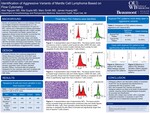 Included in
COinS