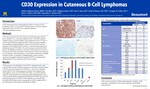 Chapter Title
Description
CD30 expression has been infrequently described in cutaneous B-cell lymphomas (CBCL). We examined CD30 expression in reactive lymphoid hyperplasia (RLH) and CBCL and correlated expression with clinicopathologic features.
Recommended Citation
Afolayan-Oloye O, Zhao L, Tejasvi T, Chan MP, Harms PW, Fullen DR, et al. CD-30 expression in cutaneous B-cell lymphomas. The American Society of Dermatopathology 59th ADP Annual Meeting, 2022 Oct 20-23, Chicago, IL.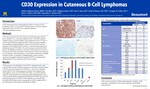 Included in
COinS