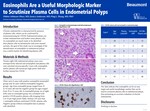 Description
Chronic endometritis is characterized by presence of plasma cells, which can be confirmed by immunostaining for CD138. Endometrial polyps can irritate endometrium and harbor some plasma cells. As eosinophils are much easier to be identified than plasma cells on hematoxylin and eosin stained sections, the goal of this study was to investigate if the identification of eosinophils in endometrial polyps was a useful marker for identifying plasma cells.
Keywords
endometrial polyps, eosinophils
Recommended Citation
Afolayan-Oloye O, Anderson J, Zhang P. Eosinophils are a useful morphologic marker to scrutinize plasma cells in endometrial polyps. Presented at American Society for Clinical Pathology Annual Meeting; 2022 Sep 7-9; Chicago, IL.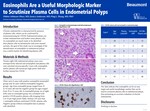 COinS