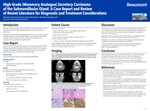 Description
Introduction
Mammary analogue secretory carcinoma (MASC) of the salivary glands is a rare tumor that shares immunohistochemical properties as secretory carcinoma of the breast. Classified by the World Health Organization (WHO) in 2017 as secretory carcinoma of the salivary glands.1 This is classically thought of as a low-grade salivary gland lesion that has been historically classified as acinic cell carcinoma (AciCC) or adenocarcinoma, not otherwise specified (NOS).
Keywords
submandibular gland
Disciplines
Otolaryngology | Pathology
Recommended Citation
Sims J, Kranz Z, Schwartz E, Korkigian S. High-grade (mammary analogue) secretory carcinoma of the submandibular gland: A Case report and review of recent literature for diagnostic and treatment considerations. Poster presented at Beaumont Hospital Farmington Hills 2022 Alvin Yarrows Research Day; 2022 May; Farmington Hills, MI.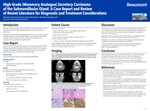 COinS