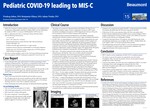 Chapter Title
Description
Introduction
• SARS COV-2 infection in pediatric patients can develop into a rare condition known as multisystem inflammatory syndrome in children (MIS-C). In the United States, the incidence of MIS-C is 2 cases per 100,000 pediatric COVID cases.
• MIS-C is defined by the CDC as a Kawasaki Disease (KD) like illness with the following characteristics: - ≤ 21 years old - Fever ≥ 38° Celsius for ≥ 24 hours - Elevated inflammatory markers (ferritin, ESR, CRP, procalcitonin, d-dimer, fibrinogen, etc) - Evidence of multi-organ dysfunction ≥ 2 organ systems - Symptoms must be otherwise unattributable to an alternative diagnosis - Positive Sars-CoV-2 RT PCR, positive antigen test, or COVID exposure within 40 days of symptom onset.
• Data from a tertiary pediatric center in New York from 2020 demonstrated that 28% of all pediatric COVID-19 admissions required ICU level of care.
Keywords
COVID-19, multisystem inflammatory syndrome
Disciplines
Emergency Medicine
Recommended Citation
Johns P, Glines B, Vieder A. Pediatric COVID-19 leading to MIS-C. Presented at Beaumont Hospital Farmington Hills 2022 Alvin Yarrows Research Day; 2022 May; Farmington Hills, MI.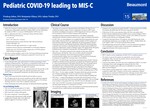 COinS