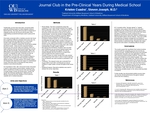 Description
INTRODUCTION
Traditionally, journal clubs have been conducted within graduate medical programs to help integrate evidence-based learning. This study will be focused on beginning to integrate journal club into the pre-clinical years while implementing successful techniques used in past journal clubs. Our hypothesis is that, with a structured review instrument in place to help students analyze clinical articles, students will be able to benefit from monthly journal clubs and fully grasp concepts taught in these pre-clinical years. Overall, the results will contribute significantly in determining the efficacy of journal club and whether or not it can be a valuable tool in medical education.
Publication Date
5-2-2022
Keywords
journal club, medical education
Disciplines
Emergency Medicine
Recommended Citation
Cuadra K, Joseph S. Journal club in the pre-clinical years during medical school. Poster presented at: Oakland University William Beaumont School of Medicine Embark Capstone Colloquium; 2022 May 2; Rochester Hills, MI.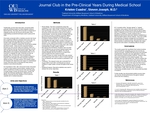 Included in
COinS