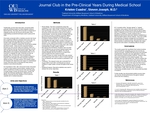 Description
INTRODUCTION
Traditionally, journal clubs have been conducted within graduate medical programs to help integrate evidence-based learning. This study will be focused on beginning to integrate journal club into the pre-clinical years while implementing successful techniques used in past journal clubs. Our hypothesis is that, with a structured review instrument in place to help students analyze clinical articles, students will be able to benefit from monthly journal clubs and fully grasp concepts taught in these pre-clinical years. Overall, the results will contribute significantly in determining the efficacy of journal club and whether or not it can be a valuable tool in medical education.
METHODS
This was a prospective study that consisted of 14 2nd year medical students from August 2020 to April 2021. Each month, a one-hour journal club was held virtually over Zoom, where students used a structured review instrument to discuss and analyze journal articles. Journal club articles correlated with the pre-clinical curriculum at OUWB. At the end of April 2021, all 14 students were asked to complete a 10-question survey determining whether or not the monthly journal clubs were helpful in providing them with a better understanding of organ system material. Descriptive statistics was used to analyze the survey responses.
RESULTS
All 14 students either "strongly agreed" or "agreed somewhat" when asked if their pre-clinical education benefited from the monthly journal clubs as well as when asked if integrated journal clubs would benefit their future education in residency.
CONCLUSIONS
The results support the hypothesis that medical students would benefit from integrating journal club into the pre-clinical curriculum. Students felt that journal club positively impacted their education and was applicable in order to start practicing evidence-based medicine. Further studies may demonstrate whether journal club can improve clinical performance throughout medical school.
Publication Date
5-2-2022
Keywords
journal club, medical education
Disciplines
Emergency Medicine
Recommended Citation
Cuadra K, Joseph S. Journal club in the pre-clinical years during medical school. Poster presented at: Oakland University William Beaumont School of Medicine Embark Capstone Colloquium; 2022 May 2; Rochester Hills, MI.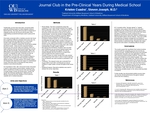 Included in
COinS