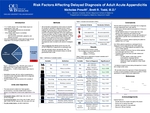 Description
INTRODUCTION
The diagnosis of appendicitis is time-sensitive and delays increase the risk of morbidity and mortality through complications, including perforation, gangrene, and abscess formation. Nearly all cases of appendicitis are diagnosed in and admitted through the emergency department (ED). Therefore, improvements in the time to diagnosis of acute appendicitis in the ED may improve patient outcomes. However, it currently remains unclear what factors contribute to prolonged diagnostic times of appendicitis. This study aimed to determine if demographic, environmental, or provider-related factors result in delays in the diagnosis of adult acute appendicitis in the ED.
METHODS
We conducted a retrospective cohort study to evaluate the causes of variability in diagnosis times of acute appendicitis utilizing chart review methodology. Charts were pulled from Epic for all patients diagnosed with acute appendicitis, 18 years and older, and from the Beaumont Hospital, Royal Oak ED in the time period of 2016 to 2018. Variables collected include age, race, sex, primary language, time of day, day of week, time of year, mode of arrival, referral to ED, return ED visit, and the provider experience. Time to diagnosis was defined as the time from ED arrival to diagnosis of appendicitis by radiologist read. Data was analyzed using a univariate generalized linear model.
RESULTS
907 patients met the inclusion criteria. Average time to diagnosis was significantly lower in white patients than nonwhite patients (3.96 versus 4.30 hours; p = 0.005) and in males than females (3.74 versus 4.32 hours; p < 0.001).
CONCLUSIONS
Female and nonwhite patients experience a prolonged time to diagnosis of acute appendicitis. This may reflect confusion with pelvic pathology in females and possibly the effects of implicit bias in healthcare workers. ED providers should be cognizant of these discrepancies in order to avoid increased morbidity and mortality in these population of patients with acute appendicitis.
Publication Date
5-2-2022
Keywords
appendicitis, acute
Disciplines
Emergency Medicine
Recommended Citation
Prewitt NW, Todd BR. Risk factors affecting delayed diagnosis of adult acute appendicitis. Poster presented at: Oakland University William Beaumont School of Medicine Embark Capstone Colloquium; 2022 May 2; Rochester Hills, MI.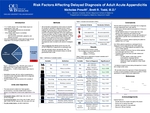 Included in
COinS